LED NSF / NEMA 4X Exit / Emergency Combo
The EMEF provides energy efficient, long life red or green LED exit sign illumination. This unit has many certifications - including NSF, IP66, and UL certified for use in food service operations. The EMEF features fully adjustable, ultra-bright 3.3W MR-16 base white LED lamp heads for optimized center-to-center spacing. The 12W and 15W models feature 6V/12V long life, maintenance-free rechargeable NiCd batteries, while the 28W option features a 6V/12V rechargeable lead acid battery. The EMEF offers 4.8W, 7.8W and 20.8W of remote capacity standard on the 12W, 15W and 28W models. A fully automated solid-state, two-rate charger initiates battery charging to recharge a discharged battery in 24 hours.
Applications: Suitable for indoor or outdoor use where emergency lighting is needed
Warranty: 5 year limited warranty on housing and electronics. NiCd battery prorated for 5 years. Lead acid battery prorated for 2 years.
Certifications: UL listed for wet locations, UL certified for use in food service operations. Other certifications - NEMA 4X-rated, IP66, UL924, NFPA 101 Life Safety Code, NEC, OSHA, Local and State Codes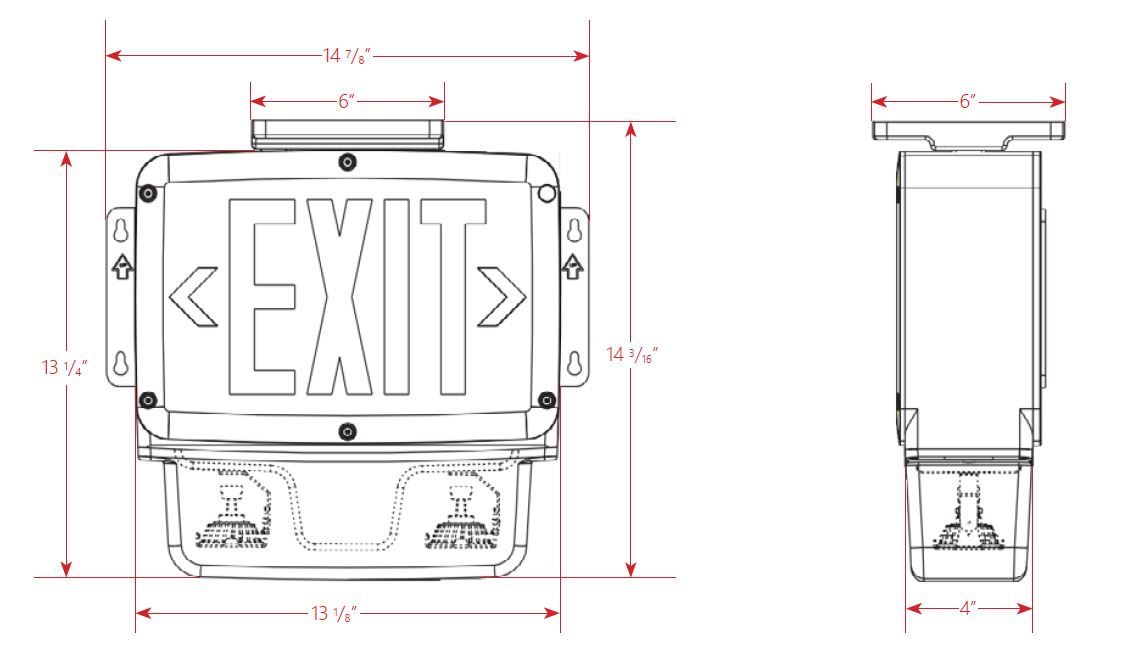 Installation and construction
Installation & construction
The housing on the EMEF is constructed of reinforced polycarbonate in white, gray or black. The corrosion-resistant enclosure features a one-piece, high-impact resistant, UV-stabilized polycarbonate lens and molded gasket with stainless steel screws. A polycarbonate mounting canopy is included for top or end mount. A universal knockout pattern on the back, for back mounting, is gasketed for a watertight seal.