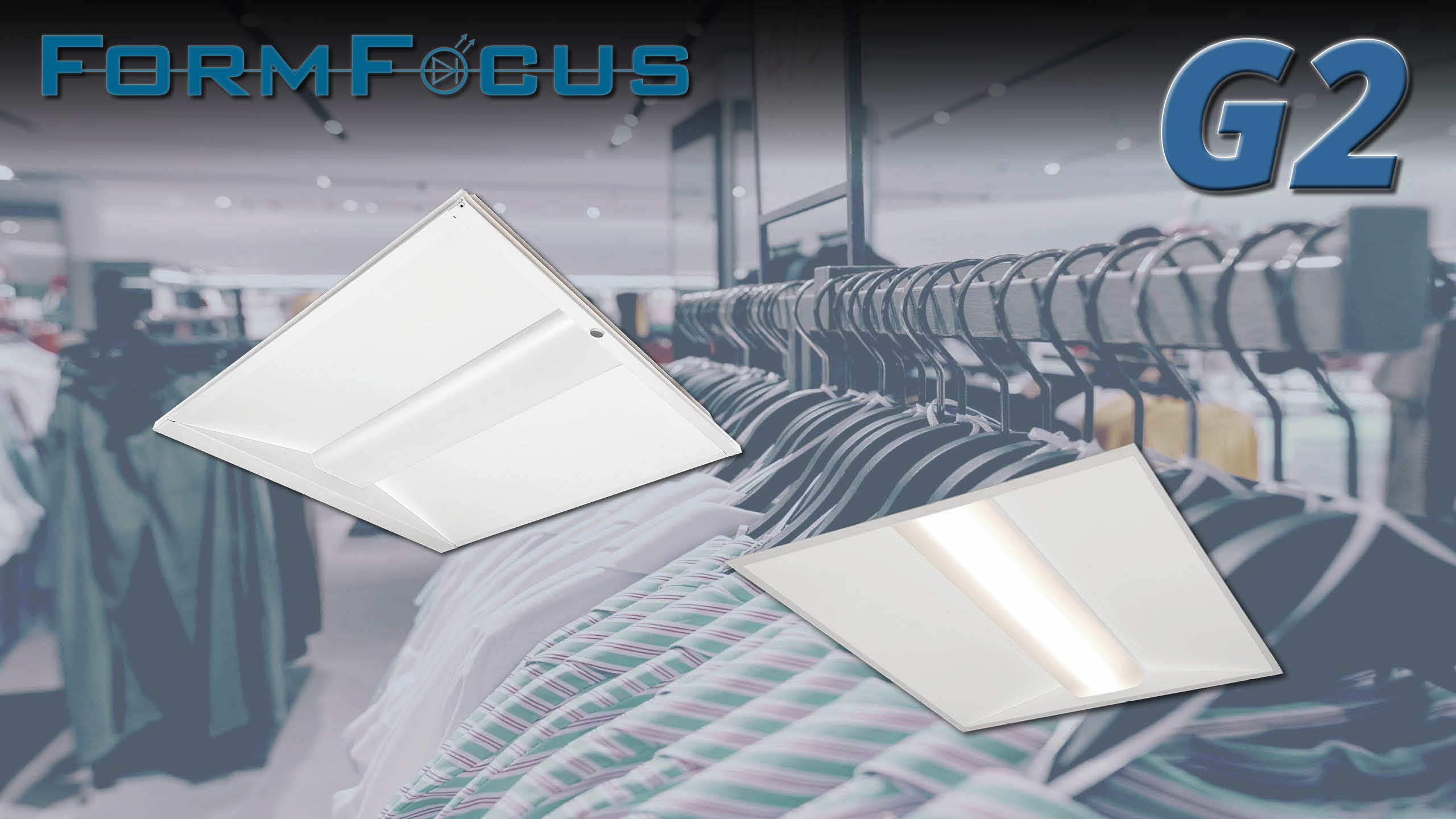 We have an exciting announcement! Our engineers have been working on enhanced versions of our FormFocus FFL troffer and FormFocus FFR retrofit, and they're finally here!
Introducing the FFL G2 and FFR G2. These second-generation versions utilize higher quality LED arrays rated at 90+ CRI. This is especially good for retail applications because it brings out the vibrance and colors on the objects to make them pop off the shelf.
Each FFL and FFR G2 is made in the USA – in our Henderson, NC facility, utilizing mostly domestic and some foreign components. BAA compliant options are available.
In addition to the high efficacy and 90+ CRI rating, these luminaires are offered with controls options. These options include occupancy sensing, dimming, daylight harvesting and more. This allows you to MAXIMIZE efficiency and convenience. Why are these fixtures suitable for retail and similar spaces? Let's talk about it.
Click here to learn more about the FFR G2 lay-in retrofit kit. Click here to learn about the FFL G2 lay-in luminaire.

As costs add up in retail, classrooms, healthcare and much more, what could you do? Where could you reduce expenses without sacrificing the quality of your work environment?
Lighting accounts for 30% of electricity costs in retail1 and 34% of electricity costs in warehouses2. Since lighting is essential, you can't get rid of it, but it's possible you could use a much more efficient lighting system.
LEDs are MUCH more efficient than fluorescents. If you're still using fluorescent luminaires, you could probably be saving a LOT on energy costs after switching to LEDs. But would an LED upgrade be expensive? Well, not necessarily. There is a way to upgrade to efficient LED lights at a much more affordable price. Here's how.
LED lighting is over 50% more efficient than fluorescents. These fixtures would start giving you drastic savings as soon as you switch over. Fixtures like the FormFocus FFL G2 are suitable for retail, offices, healthcare, classrooms and more. It's an LED troffer that comes in a wide variety of sizes and lumen packages to get you EXACTLY the lighting level you need at an efficient energy expenditure. But what about the upfront cost? People are usually concerned about the cost and when you will get a return on the investment. This is where the FormFocus FFR G2 comes in.
The FormFocus FFR G2 is a retrofit kit that can installed into existing troffers. About 3-5 minutes is all it takes to install these kits into existing troffer housings. The frosted diffuser is optimized to balance efficiency and style.
The FFL and FFR G2 products are DesignLights Consortium qualified (specific configurations), an dUL 1598 listed for US and Canada, suitable for damp locations.

1https://dteenergy.bizenergyadvisor.com/article/retail-buildings