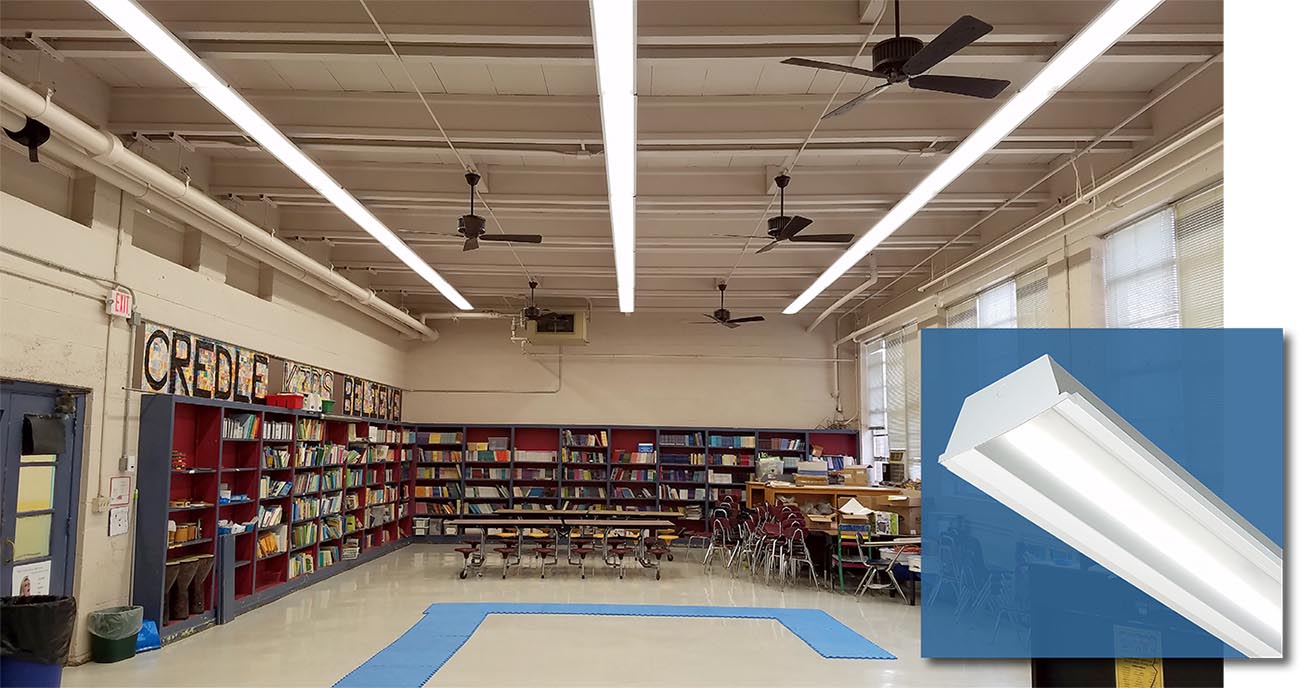 FormFocus luminaires are brightening up classrooms in neighboring Granville County, NC.
The FFLP was used to replace louvered T12 8-foot units in some of the classrooms at Oxford's C.G. Credle Elementary School. The C.G. Credle school building is "the oldest structure still operating as a school in the state of North Carolina," according to Historic Oxford, NC's website. The original building that would become C.G. Credle Elementary was constructed around 1910. (source: https://historicoxfordnc.weebly.com/c-g-credle-school.html).

The students and teachers are experiencing improved light levels, while Granville County should benefit with a drastic reduction in energy compared to the old fixtures. The new FFLPs are about 66 to 74 percent more efficient than the fluorescent fixtures!
The FFLP is an efficient lighting solution suitable for many applications. The frosted center diffuser is optimized to balance efficiency and style. Illumination comes from a single bar of light with no LED pixelation and minimal glare. Efficacies over 157 lumens per watt are possible.
The fixture used at C.G. Credle is the FFLP8VLUVFA840. This fixture produces 5,348 lumens at 35 watts – 152.8 lumens per watt. This retrofit project should provide drastic energy savings, with a much more modern aesthetic. With a predicted L70 lifetime of up to 189,000 calculated hours, these FFLPs should provide high quality illumination for the students and teachers at C.G. Credle for many years to come.

The FFLP is suitable for most indoor industrial, commercial and institutional applications – office, retail, and warehouses, to name a few. It is available in 4-foot and 8-foot versions. The FFLP is part of the FormFocus line of LED luminaires and retrofits. A retrofit kit version with a similar aesthetic, the FFRP, is also available. Learn more about the FFRP here.
The FFLP is upgradeable too. LED boards can be replaced in minutes using Re-boardABILITY. Read more about Re-boardABILITY here.
Every FFLP is assembled at our facility in Henderson, NC.
---