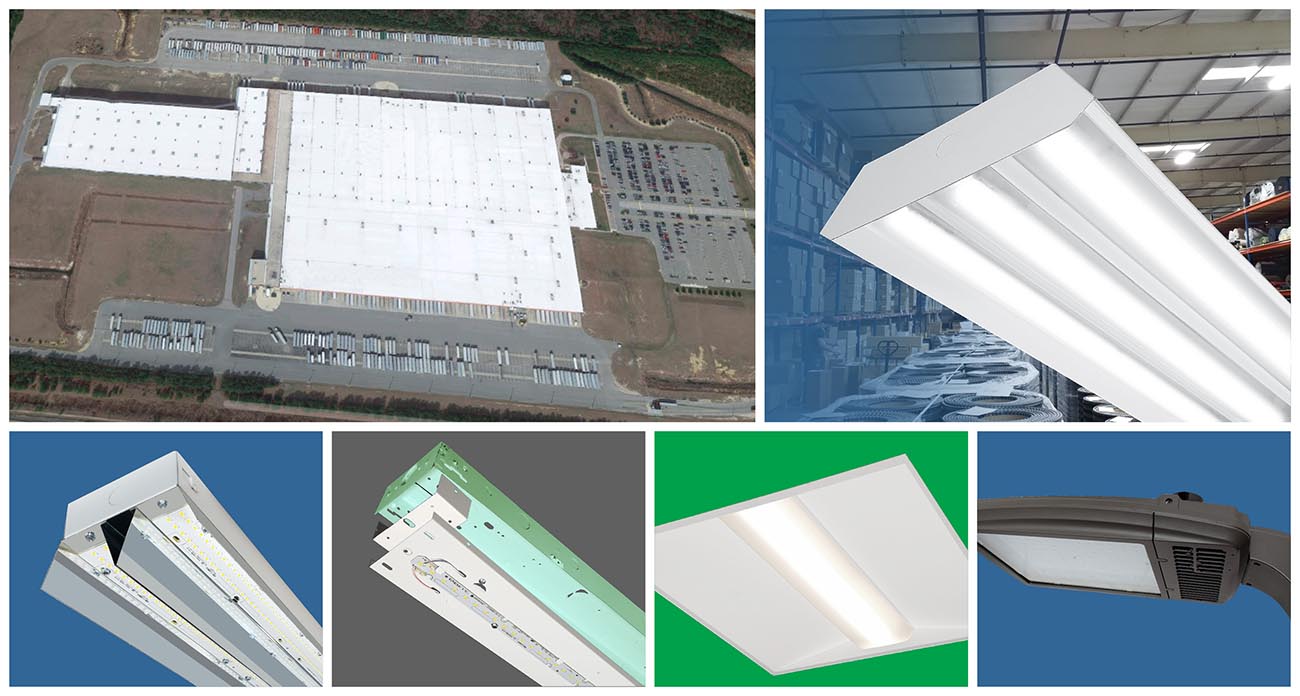 LumenFocus fixtures were recently used in a massive lighting upgrade for a large distribution center in eastern North Carolina. This project utilized over 3,000 LumenFocus products – a mixture of new high bay luminaires, strip and troffer retrofits in the interior spaces, along with updated exterior lighting in the parking lots.
How will the customer benefit?
Projected energy savings: Over $312,000 annually (based on annual usage hours and a utility rate of $0.0516 per kWh
Simple payback: 2.2 years
Return on investment: Nearly 320 percent
Estimated lifecycle savings: Over $3.75M
The customer will decrease their lighting energy consumption by about 64 percent – from over $487,000 to under $175,000. A full breakout of savings is below.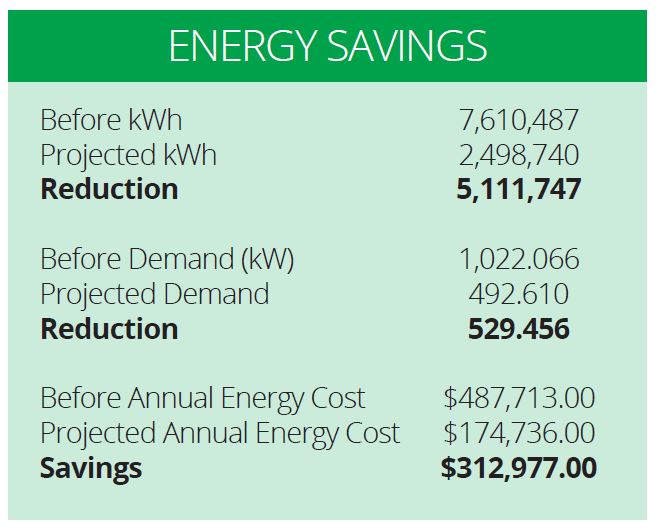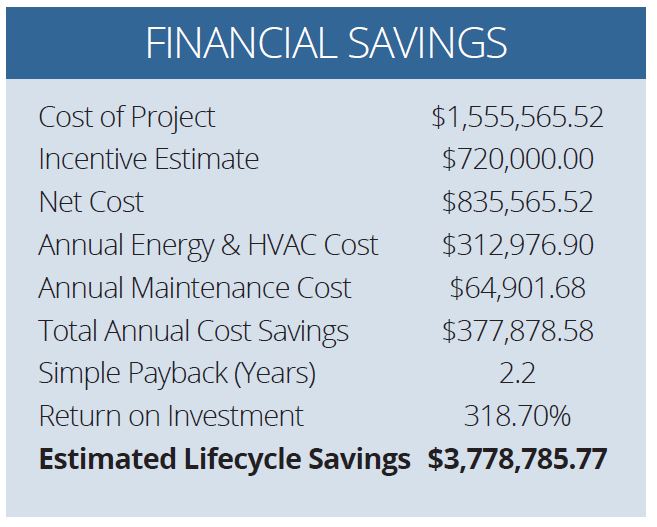 Environmental impact
This project will reduce energy consumption by 5 million kWh annually. This reduction is the equivalent of…
Greenhouse gas emissions from 751 passenger vehicles driven for one year
Carbon dioxide emissions from 397,795 gallons of gasoline or 347,269 gallons of diesel
Carbon sequestered by 58,455 tree seedlings grown for 10 years, or 4,617 acres of US forests in one year
About the fixtures used


The PBL is an extremely versatile premium LED high bay available in a wide variety of options and lumen outputs.
Available in 2-foot and 4-foot lengths, standard and wide widths
Output ranges from 9,000 to over 68,000 lumens*
Efficacy up to 175.2 lumens per watt*
Many control options – from standard on/off occupancy sensors to advanced network controls
Long lifetime – L70 up to 189,000 calculated hours
Learn more about the PBL here.

The PBLA is ideal for warehouse aisles and corridors, with an enhanced specular reflector designed to provide even vertical illumination on shelving and optimize aisleway lighting.
Available in 4-foot and 8-foot lengths
Output ranges from 12,000 to 24,000 lumens in the 4-foot version, 23,000 to 49,400 lumens in the 8-foot version*
Efficacy up to 168.3 lumens per watt*
Long lifetime – L70 up to 189,000 calculated hours
Learn more about the PBLA here.

The RCL is a retrofit kit for existing fluorescent strip fixtures. This kit provides drastic energy savings, and installs quickly and easily in just a few minutes.
Multiple length options and a wide variety of lumen packages for maximum versatility
"Variable" width option available, which fits channel widths from 4.00 to 5.00 inches
Optional diffuser lenses minimize glare and improve aesthetics
Optional Microwave Occupancy Sensor sits discretely behind lens
Efficacy up to 150+ lumens per watt*
Learn more about the RCL here.


The FormFocus FFR is an LED retrofit kit for existing 2×4, 2×2, 1×4, 1×2 and 1×8 troffers
Installation is easy and takes about 3-5 minutes, depending on the configuration
Efficacies up to about 148 lumens per watt*
Lens specially designed to provide uniform illumination – LED pixelation is non-existent
Available with Philips EasySense sensors – a simple, cost-effective controls option that provides occupancy sensing, daylight harvesting and task tuning in one device
Learn more about the FormFocus FFR here.


The ALx LED area light is suitable for many exterior street or area light applications.
Available in four sizes – with output ranging from 2,600 lumens in the smallest unit to over 66,000 in the largest*
Wide variety of mounting options and optics to choose from, depending on the size
Long-life LEDs with high efficacy performance
Die cast aluminum housing with a bronze powder coat finish
Learn more about the ALx here.
Contact us today and let us quote your next project!
*LED lumen packages, efficacy data and lumen output is constantly evolving. Check out our product spec sheets for most up-to-date information