Cloud-based energy management
Universal Douglas provides sustainable controls solutions that can be integrated into many LumenFocus products. These controls can be utilized with CheckLight® - Universal Douglas' cloud-based energy management and measurement platform. Universal Douglas controls, together with Re-boardABILITY, helps us to provide a sustainable and upgradeable lighting solution.
INTEGRATION WITH LUMENFOCUS
The Universal Douglas Bluetooth Intelligent Fixture Sensor (IFS), as well as the Intelligent Fixture Controller (IFC), can be used in many of our indoor products - such as our FormFocus FFR retrofit and FormFocus FFL troffer series. These products can be used in mounting heights up to 16.4 feet, and are ideal for applications like offices and medical buildings. The sensors can be networked with the controllers using the Universal Douglas Bluetooth app for room, area, or floor lighting controls. Part of the Dialog family of networked controls, the IFS and IFC can communicate with other Dialog wireless switches, sensors and load controllers. This allows for building-wide advanced controls strategies.

0-10V dimming with dim-to-off

Occupancy, vacancy, partial-on and partial-off

Occupancy timeout adjustable from 5 to 90 minutes

Primary and secondary daylight harvesting

Bluetooth beacon for digital ceiling, IoT and location services strategies

Commissioning through Universal Douglas app from Apple app store

150-foot clear line of sight, 50 feet through standard walls

May be used with dual-channel, tunable white LED drivers providing auxiliary output power and dim-to-off capability

0-10V dimming with dim-to-off

Listed for emergency control when used on dedicated emergency power bus

Same occupancy and daylight controls as the IFS when networked with one or more IFS sensors

Bluetooth beacon for digital ceiling, IoT and location services strategies

Commissioning through Universal Douglas app from Apple app store

150-foot clear line of sight, 50 feet through standard walls

May be used with dual-channel, tunable white LED drivers providing auxiliary output power and dim-to-off capability

The Universal Douglas FMS sensor is for high bay applications, and can be utilized in many of our product lines such as the PBL G2. This sensor has a max mounting height up to 40 feet and is ideal for applications like warehouses and manufacturing facilities. It can be installed for on/off control or bi-level light functionality. The daylight sensor provides additional savings by dimming the lights to work with the amount of natural available daylight.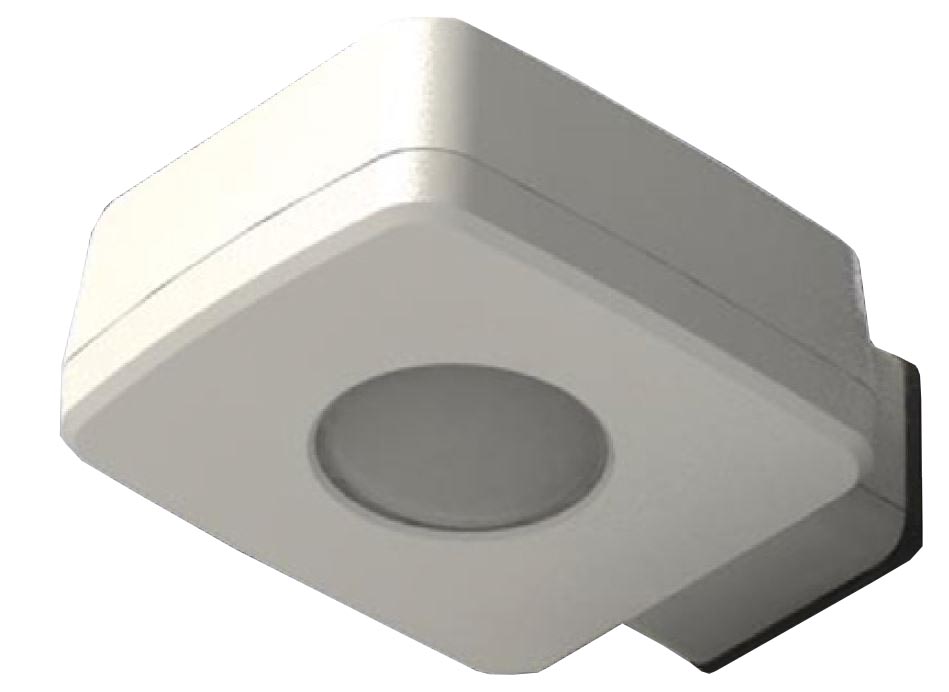 Configuration from the floor via the smartphone app

Bluetooth mesh network is created between devices for control over a group of Universal Douglas sensors

Occupancy and daylight sensing

IP65-rated

0-10V dimming

150 feet clear line of site, 50 feet through standard walls (distances may vary based on location and environment)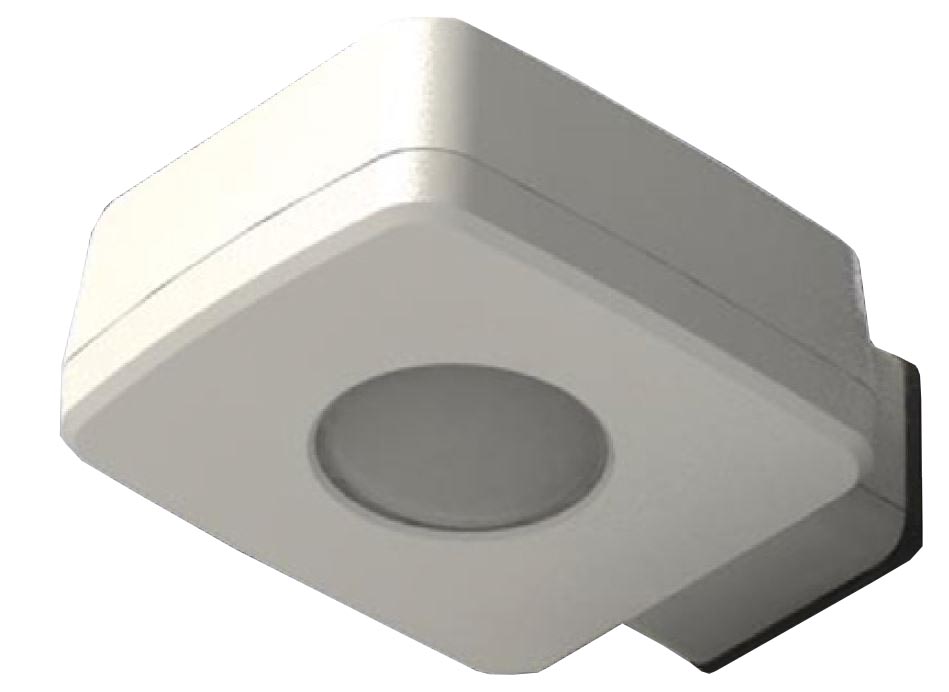 CHECKLIGHT

®

- A PROVEN SOLUTIONS PROVIDER
Universal Douglas controls can be integrated with the CheckLight® Energy Management system. With CheckLight®, you can uncover energy conversion opportunities, create conservation strategies, analyze lighting load inefficiencies, and make configuration changes from anywhere using Universal Douglas' user-friendly interface. You can get measurements, reports and control your system from a web-based application. CheckLight® also provides a way to remain code compliant as codes continue to evolve.
Secure Microsoft Azure cloud platform

Dashboard for energy management and monitoring

Remote system access through a cellular modem

OpenADR (automated demand reponse) ready

System warnings and alerts through email

Compatible with Universal Douglas' Dialog networked systems

Manual control for on/off and dimming

The configuration of outputs, groups, presets, modes, behaviors, constant light control, schedules and system settings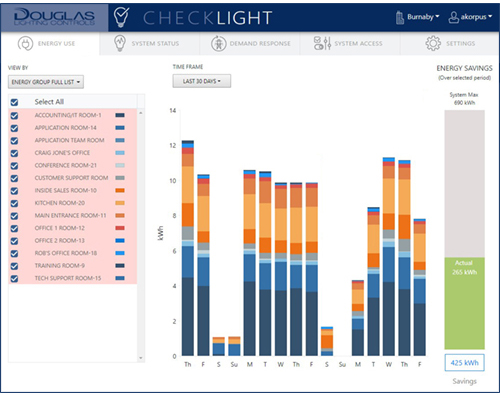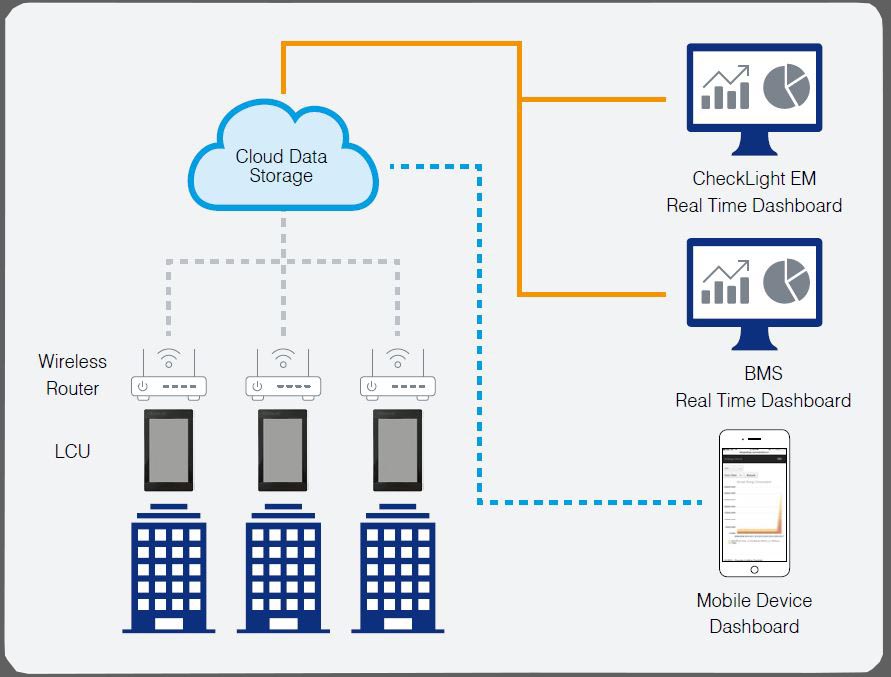 CheckLight® devices provide data to the lighting control unit (LCU), which then provides data to the cloud through a cellular router. Then it can be reported and shared. Utilizing the energy use dashboard, users can monitor their system's performance and make decisions about optimizing their system. They can adjust schedules, modify trim levels or make zone adjustments.
MULTI-SITE PERFORMANCE MONITORING
CheckLight® has the capability to look at different facilities within a portfolio and use data benchmarks to compare building performances. This can help you realize energy conservation opportunities, create energy saving strategies, analyze load inefficiencies and optimize energy management across your entire company.
Data can be shared with building management software for complete facility usage of energy. This data can be exported in common file formats.

APPLICATION EXAMPLES
Hospitals/medical facilities - Specify and monitor lighting conditions in many different departments, offices, and clinics. Individual rooms can operate independently for daylight harvesting and dimming control, minimizing energy usage while still allowing global facility control to prioritize lighting schedule actions.
Office buildings - Take advantage of daylight harvesting to reduce energy usage and optimize occupant comfort. You could adjust lighting schedules in different office spaces based on employee use and occupancy - especially helpful when practicing social distancing. Company-wide monitoring means you can retrieve metrics from each facility.
Education - Tunable white capabilities allows for a more human-centric environment, providing visual comfort for students and teachers in areas like classrooms and libraries.
Manufacturing - Utilize occupancy/vacancy detection and set lighting schedules. Company-wide monitoring would be beneficial here as well.
THE HIGHEST SECURITY STANDARDS
CheckLite® utilizes security provided by Microsoft Azure. Azure employs all the latest and highest security standards. Data utilizes the highest encryption standards for corporate data security and wireless data transmission. The CradlePoint router can filter out unwanted IP addresses and ensure only allowed devices and users can control the system. The cloud database is also secured by Microsoft with IP firewall to only allow the CheckLight® cloud server access.
Have any questions? Contact us today for more info!
© 2022 Universal Douglas for all Universal Douglas content and images. Reprinted with permission.
The Bluetooth® word, mark and logos are registered trademarks owned by the Bluetooth SIG, Inc. and any use of such marks by Universal Douglas is under license. Other trademarks and trade names are those of their respective owners.