Illuminating with Intellect
LumenFocus offers integrated controls solutions with Leviton's Intellect suite of sensors and modules. With Intellect, we can integrate sensing and individual control for many of our luminaires and retrofit kits. These controls provide a wide range of advantages useful for many applications - offices classrooms, retail settings, and more.
INTEGRATION WITH LUMENFOCUS
Leviton's ZLxS sensor and ZLxC wireless controller can be integrated into many of our interior products, such as our FormFocus FFR retrofit and FormFocus FFL troffer series. These control modules are part of the GreenMAX DRC Wireless Networked Control System. With GreenMAX, the DRC wireless keypad room controllers are used as the brain of the system. They manage the fixture-integrated Leviton Intellect sensors and controllers. You can wirelessly commission, configure, control, monitor and provision the GreenMAX DRC system using the GreenMAX DRC app and an Android or iOS smart device.

PIR occupancy sensing

Daylight sensing
0-10V or DALI
Up to 20' mounting height
Wireless fixture controller - no sensor

0-10V or DALI
Below are features offered with the GreenMAX system. A room controller is required to program Intellect sensors and controllers. The app allows for mobile commissioning from a smart device, performed within the room and one room at at time.
Occupancy/vacancy sensing
Multi-level lighting, partial-on, partial-off
Daylight harvesting
Task tuning
Scheduling
Grouping
Demand response
Building Management System integration
ZigBee 2.4 GHz wireless mesh network
Up to 75' between devices
Can be used to comply with IECC, ASHRAE 90.1 and 2019 Title 24, Part 6 dimming, occupancy/vacancy sensing and daylight harvesting requirements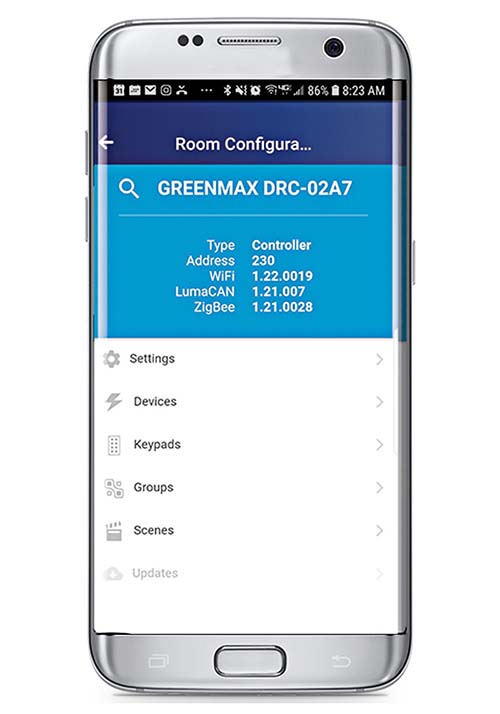 VERSATILE ROOM CONTROLLERS
Leviton offers a variety of controllers to control Intellect sensors and controllers. They are installed one or more per room, and are the primary interface to manage all devices in the room. These controllers use wireless mesh to communicate to the fixtures, and point-to-point Bluetooth communication to your smart device. They are line voltage powered (120-277v).
1-, 2-, 4-, and 8-button configurations

Max capacity: 60 devices
Programmable: On/Off/Raise/Lower/Toggle/Scene
Configurable with any Android or iOS device with the GreenMAX DRC app
Custom engraving available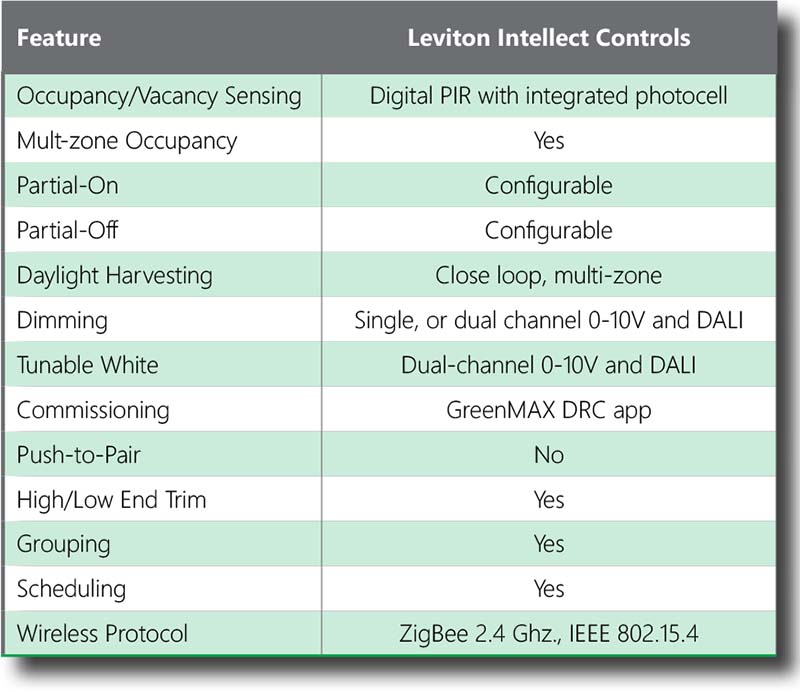 © 2023 Leviton for Leviton content and images